The fall season is now in full effect, which means a lot of shopping is in your future! Engagements, anniversaries, birthdays, and holidays are all around the corner. For all of these fantastic events, Ware Jewelers is excited to have you come in for gifts to dazzle your loved ones. From bridal to fashion jewelry, there is something for every memorable moment.
Need to start browsing and bookmarking all of your unique finds? Check out our Wish List! With so many exceptional items to find at Ware Jewelers, we know that many of your desktop bookmarks will be made with us. To gain easy access to your saved items, create a customer account with Facebook, or just use your email address. On top of that, we could all use those extra savings with all of our shopping. You will receive exclusive offers straight in your inbox with a customer account, such as store events and discounts!
There might be something extra special that that wish list might hold as well. The holidays are an exciting time for proposals, and it might be your time to pop the question! With designers like Martin Flyer, Henri Daussi, and A. Jaffe, finding the perfect ring is easy to do online or in our store. Maybe a beautiful FlyerFit solitaire diamond ring for a traditional bride to be? A popular ring to transcend all fashion trends.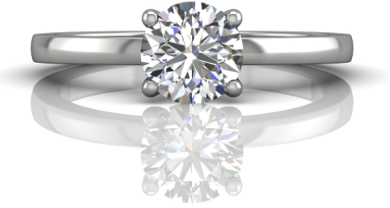 Or something with a bit more flare like this Noam Carver engagement ring. Featuring 30 brilliant round diamonds and a round center stone with hexagonal halo makes for a show-stopping ring. It was made for a bride who is always styled fashion-forward.
Our store is ready with experienced jewelers prepared to help with any purchase, but for those seeking to shop from the comfort of their couch, our online store has everything you would see in person. Shop online and get easy pick-up or delivery, all while still supporting your local businesses. We are here to help you with all of your gift-giving shopping.
Whether you are ready to make a big step in your future or want to support your locally owned businesses during this holiday season, Ware Jewelers has an inventory made for all shoppers. If you have any questions, you could give us a call or send us a quick email. Supporting your local stores like Ware Jewelers is important to you, and we want to keep the processes easy. Shop online and put everything you find on your wish list when you are ready to check out. Or bookmark it to see it in person at our store. The holidays can be stressful enough without worrying about getting something for all of your loved ones, so come into your new one-stop-shop, Ware Jewelers today!