Engravings are intimately romantic! Inscribing words that kindle special memories – feelings that only you can truly understand – makes your jewelry just that more special and unique.
Jewelry engravings as a phenomenon are nothing new. In fact, it has its roots in medieval Europe where it began with inscriptions of poetry onto wedding rings. Today, it still isn't as common as you'd think. But if you ask us, it is the best way to personalize your jewelry.
Jennie Ma from The Knot has some tips and ideas for you.
Wedding Ring Engraving Ideas and Tips
The custom of inscribing romantic poetry onto wedding rings began in the courts of medieval Europe. Today, engraving a message on the inside of the shank—even around the perimeter of the stone!—is one of the easiest ways to personalize an engagement rings or your wedding bands.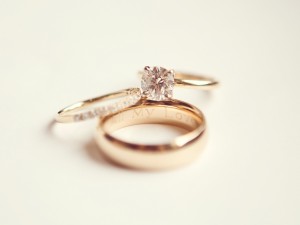 Ring Engraving
How to Do It
Make the request to get your ring engraved by your jeweler when you order the ring. If the jeweler can't do it, he should be able to refer you to an engraver. See full post here
Ware Jewelers provides impeccable engraving services – on the surface, on the inside or even along the side perimeter of the ring. Visit now