I'll be honest here, to begin with. Up until last year I wasn't even aware of Rose Gold and if it was really a variant of Gold. Pardon me for my ignorance, but, Rose Gold to me sounded something from the world of Tolkien's The Lord of the Rings. However, true to its name, it came out a pleasant surprise to have some variety in the color of jewelry I could opt for my Sister's wedding.
So, after going through many articles online and thanks to the awesome jewelry store it has become my favorite piece of Jewelry for some time now.
So, what is Rose Gold?
Rose Gold, as the name suggests, is a variant of Gold just like White Gold. It is made by mixing Gold with Copper alloys. It is the Copper which gives it the Rose hue i.e. the Pink shade.
The general composition for Rose Gold is 75% Gold to 25% Copper. The higher the amount of Copper, the darker the color gets. Now, if you are wondering whether you should go for it or not, here's your answer:
Should you opt for Rose Gold over others?
There are many advantages of Rose Gold. From affordability, uniqueness to durability, there are more than few reasons to opt for it. Especially, if you are running on a tight budget, Rose Gold might be the best option for you. Here are other attributes which make Rose Gold a hot-favorite in the market: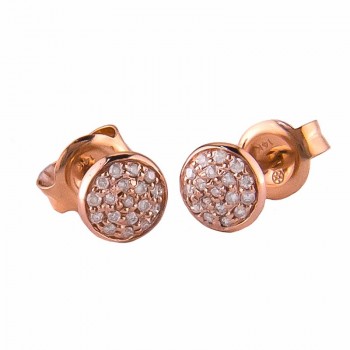 It has romance written all over it
The Pink/Red hue engagement ring made me drool for a bit. I loved the Rose Gold Wedding bands which had an alluring appeal to it. If you are looking to gift it to your partner who is a die-hard romantic then you can put all your concerns at bay as it comes in many different style patterns and the Rose essence is just what it is famous for.
Don't fret over regular maintenance
As the Rose gold is made with an Alloy i.e. copper which is a very hard material, the Rose Gold ring is very durable. Especially, for the people on the go who are prone to get the ring ruined by scratches, it surely comes as a relief.
To maintain its sheen, all you need is a little soapy water and let it dry. Over years you might notice the darkening of pink hue which doesn't make it lose its appeal rather gives it a vintage look.
Lastly, I loved that under the price tag it is a very trendy piece of Jewelry. With White gold or platinum rings, it is it a bit difficult to opt for yellow diamonds. However, with Rose gold, the Yellow stone looks stunning which further makes the purchase affordable.
All in all, Rose Gold wedding Bands is a pretty stunning piece of Jewelry that is available in the market. Make sure you go visit the Jewelry store in Auburn, AL to gain a better perspective of the Ring or necklace that you want.