Technology changes the way we communicate, travel, create, develop and grow. The jewelry industry has been no stranger to the wonders of technology and one swept-beneath-the carpet truth of modern jewelry is the application of 3D printing as a primary tool in the designing of custom jewelry.
3D printers are fast, efficient and accurate which makes them an important part of a modern jeweler's tool set. Megan Dolski from The Star reports how this technology is changing the industry.
Jilian Maddin has been a custom goldsmith for almost a decade, and rents a work bench and gallery space at Made You Look in Parkdale. She switched from environmental design to goldsmithing, in search of a more hands-on kind of job.
Maddin said since she's been working in the industry, she's noticed that more and more jewelry makers are using (or outsourcing) computer assisted design to print 3D models of their work, herself included. She said using that technology can be a helpful option when sharp lines and precision cuts are needed.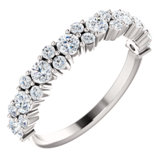 Custom Design Anniversary Band
Maddin said some of her peers who use computer assisted design still do so reluctantly.
"Traditions and that hard work, you see rings that are made in the early 1900s or late 1800s and they are so beautifully made — and it wasn't a computer — it was all fabricated by hand by these masters. That stuff is really inspiring," she said, adding that products that embrace that vintage, crafty feel are still trending today.
She said she can tell when the mould for a piece has been made by a machine rather than a human.
When doing custom work, Maddin said she starts by showing her clients hand drawn sketches. From there, she opts for either the computer design route — which she outsources — or carves a 3D sample out of wax herself.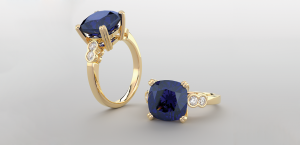 Then, regardless of whether she used a computer or her hands to make her model, Maddin's next step is the lost-wax casting technique, which originated in Africa centuries ago. It uses a wax model to make a mould that's then heated so the wax melts away and leaves room for liquid metal to fill the void and form the shape.
"To this day that is still how we make jewelry, even with the 3D printers," Maddin said. "That sort of keeps us grounded."
Sarah Dougall runs Made You Look, where Maddin works and sells her pieces. The model she offers to Toronto-based jewelry makers gives them both a place to sell and make their work for a monthly bench rental fee.
Dougall said the way custom jewelry is bought and sold has also changed in some ways due to technology. She said websites like Etsy allow artists to easily establish their own online shops. That can be problematic at times, she said, when those selling their work aren't pricing products to a retail standard, giving buyers a skewed perception of what custom jobs are worth.
Aquamarine Diamond Necklace
Around Toronto, there are a handful of options available for people who want to enrol in D.I.Y. gold and silversmithing classes, which Dougall says can be both helpful and harmful to those who make a living custom work. She thinks on face value, these workshops risk sending a message that the craft is something anyone can do with quick instruction. On the flip side, for those who do try it, Dougall said it can offer them an understanding of skills needed to produce custom and complex pieces.
Like Maddin, she said computer assisted design has changed some stages of the jewelry making process. She said it has given jewelry makers a platform to show their clients models on a screen, swapping prospective materials and stones with a click of a button. This offers a clearer picture to customers of what their final product will look like, she said.
A computer can create and print a wax model — which can be tweaked to the client's taste much easier than the handmade version can. This technology, Dougall said, has made complicated designs faster and cheaper to execute.
Still, Dougall said computer assisted design should be thought of as a tool professionals can use, not something that completely wipes out the need for a human or artist to build a product.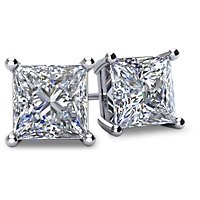 Princess Cut Diamond Studs
Andrea Wenckebach, a goldsmith and instructor at Georgian College's jewelry and metals program, feels that while emerging technology is making impact on the industry, it isn't changing everything. She noted that while new tools are being used more and more, some jewelry makers are still operating without them. She thinks new and old generations can learn from each other.
"There are still things that you need to do by hand that we don't have machines yet that can do those things," she said. "There is still an element of the old school thing that definitely still needs to be taught."
Things like setting a stone in a ring, is not something she thinks would be cost-effective for a machine to do. She doesn't think that will ever change, at least not anytime soon.
Visit Ware Jewelers on 111 South College Street, Auburn, Alabama today to get your jewelry designed or choose from a vivid array of beautifully designed jewelry. Call 334.826.9011 or toll-free 888.742.9273 for further details.
Save