The complex and interesting world of custom design jewelry can be enjoyed by just about everyone. You do not have to have a significant budget in order to enjoy a custom piece of handmade jewelry. Instead, all you need is a healthy imagination and maybe a picture of a design you find attractive.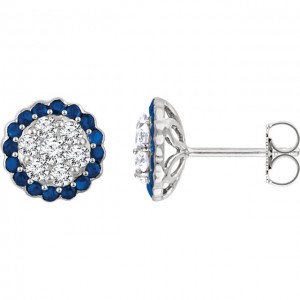 Cluster Diamond Earrings
With technological advancements in the jewelry industry, it is now easier than ever to create custom design jewelry. It is so easy that sometimes the customer does not even have to venture into the jewelry store but once to pay for the final product!
With computer animated drawings becoming more prevalent, it is easy for jewelers to show their customers the final product via email. If the customer wants to make any changes at that time, then they express that, and the drawing would be edited until everyone is satisfied with the final product.
After the computer drawing is finalized, some people even choose to create a wax molding of the piece so they can get an idea of the dimensions. This is a great idea for people who do not have much of a visual imagination because they have something to physically touch instead of a three dimensional picture.
Visit Ware Jewelers on 111 South College Street, Auburn, AL 36830 today to choose from a vivid array of custom jewelry pieces. Call 334.826.9011 or toll-free 888.742.9273 for further details.