Shop White Gold Tennis Bracelets, Diamond Tennis Bracelets, and More at Ware Jewelers!
What is a Tennis Bracelet, anyways?
A tennis bracelet is a bracelet composed of a symmetrical arrangement of diamonds linked by a delicate metal chain. Oftentimes, the gemstones within a tennis bracelet are the same color, shape, size, and clarity as one another and are set very close together so the chain is not very visible.
When first hearing the name "
Tennis bracelet
", it most likely gives off the idea that you have to sport your lush diamonds while playing a rigorous game of tennis. While this is indeed not the case, our team at Ware Jewelers is here to set the message straight about everything that is tennis bracelet related.
Tennis Bracelet? Why The Strange Name?
Tennis bracelets sure have an interesting and strange name. If you're wondering about why this strange name, somehow affiliated with sports, came to be, you're not alone! There is in fact quite an interesting backstory to go along with these glistening, shimmering, and stunning jewelry designs!
Originally, the diamond tennis bracelet was referred to as a diamond line bracelet. They were also called eternity bracelets, which we suppose sounds a little better than the first alternative.
The term "tennis bracelet" stems from professional tennis player Chris Evert. The esteemed athlete's diamond bracelet broke and fell onto the ground in an early round of the 1978 US Open. The match was temporarily stopped so the jewelry pieces could be picked up and collected off the tennis court. Evert frequently wore diamonds on the court, which is an intriguing fact being that few people relate gorgeous diamond jewelry to sports… let alone a fast-paced and intense sport like tennis!
When Evert was asked about the fiasco on the court after the match, she joked that the bracelet that had come unclasped was indeed her tennis bracelet. Thus, the name was born, and more attention was drawn to this unique jewelry style.
So Many Styles, So Little Time! Ware Jewelers Make Shopping for Tennis Bracelets Easy!
Much like with other jewelry, there are many different settings and styles when it comes to tennis bracelets. There are
diamond tennis bracelets
,
white gold tennis bracelets
,
emerald tennis bracelets
, and more!
Whatever your style or taste, there's a beautiful
tennis bracelet
right here at Ware Jewelers waiting to capture your heart or the heart of your loved one! Now that you know a bit about what a tennis bracelet is, let's dive a bit deeper into the specifics of this incredibly popular jewelry design and what makes it so intriguing to so many jewelry lovers.
A Quick Tennis Bracelet Style Guide: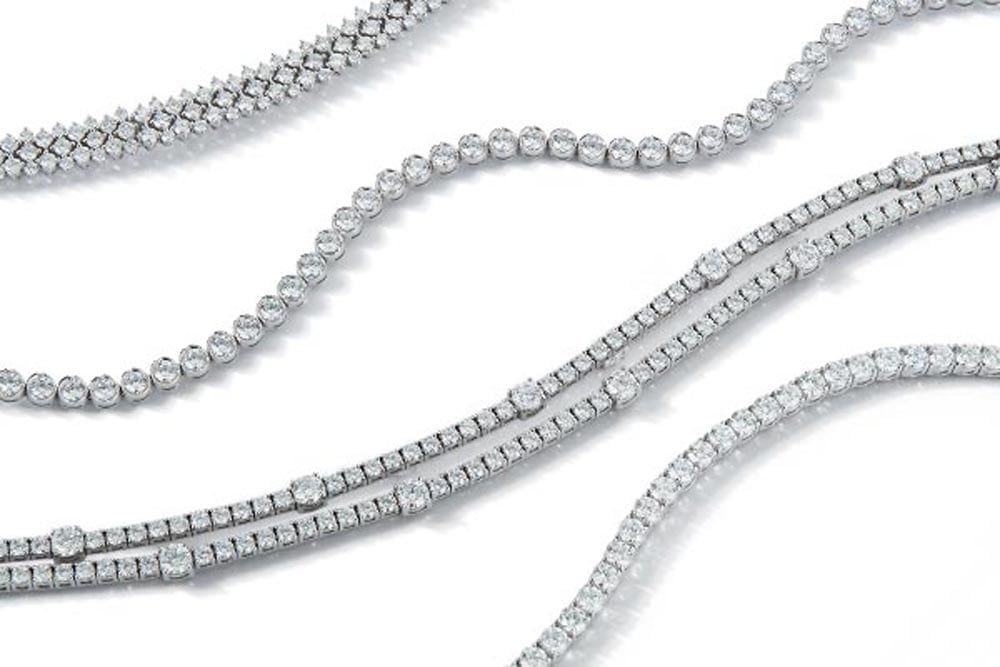 Diamond tennis bracelets are the perfect jewelry accent to bring some sparkle to any occasion. Diamonds are considered precious, chic stones. When you mix that with a bracelet, an item ideal for everyday wear, you get a remarkably balanced piece of jewelry!
That being said, the evolution of
tennis bracelets
stretches very far, as new styles and settings are being introduced to the fashion jewelry market rapidly. Have no fear, our Ware Jewelers team is here to break several tennis bracelet designs to help guide you along the way!
Keep it Classic: White Gold Tennis Bracelets!
The classic tennis bracelet style is often a yellow or white gold tennis bracelet with a single row of diamonds. This traditional and elegant style is absolutely stunning, as you can see in this elegant
diamond starter tennis bracelet
. At the same time, there are so many more to choose from!
It is very popular for the bracelet to be studded with round and princess-cut diamonds to add a splash of sass.
Shake Things Up: Tennis Bracelets with Unique Diamond Cuts, Gemstones, & Precious Metals!
At the same time, there are also oval, baguette, marquise, and emerald tennis bracelets! Changing up the diamond cut or even the gemstone is a fantastic way to add a bit of personality and stand out from the crowd. This remarkable
sapphire and diamond tennis bracelet
offers a splash of color and a bit of personality to its wearer!
Not only can you switch up the diamond cut, but tennis bracelets are also made with different metals. There is more to the world of jewelry than the yellow or white gold tennis bracelet. The diamond tennis bracelet is also offered in sterling silver, platinum, and rose gold, whatever you feel fits you best!
The More Rows, the Merrier: Multiple Row Tennis Bracelets
While most tennis bracelets feature one single row of connected diamonds, designers have begun to introduce tennis bracelets with multiple rows of gemstones. This dazzling
5-row diamond tennis bracelet
is an eye-catcher with its sparkling rows of diamonds!
Stack Up The Style: Tennis Bracelet Stacks Are All the Rage!
Why stop at just one? Stacking tennis bracelets with various metals and stones has become quite the fashion statement. A glittering silver tennis bracelet layered with a glitzy golden one is truly magnificent.
A tennis bracelet can also be an incredible accent to one of your other bracelets, whether that be a bangle, charm bracelet, or chain-link bracelet. Being such a classic piece of jewelry, they pair beautifully with almost everything!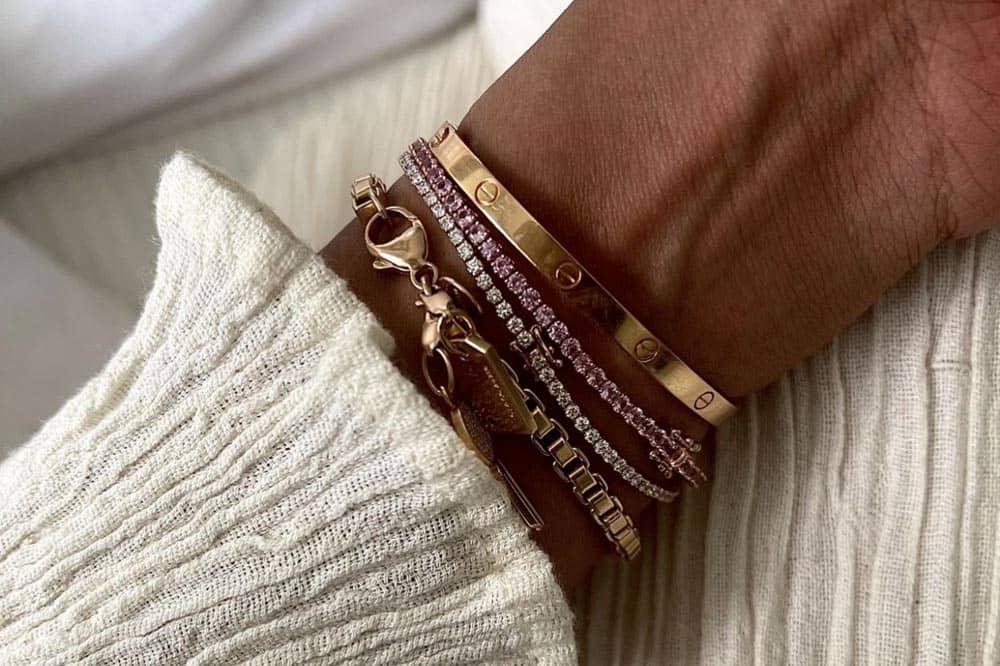 The tennis bracelet has come a long way since just the traditional singular row of diamonds set in silver or gold. There are now tennis bracelets with alternating cuts of diamonds, various settings, and intricate clasps. Truly, the variation is never-ending making the tennis bracelet a versatile piece of jewelry that caters to everyone searching for glamor no matter their style!
How to Sweeten the Deal on Your Diamond Tennis Bracelet
We want to help you find the tennis bracelet of your dreams, whether that be an emerald tennis bracelet or a white gold tennis bracelet. However, what is most important is that our team ensures that you bring home an incredible jewelry design that falls in line with your budget!
Natural diamond tennis bracelets are breathtaking and unique. Lab-grown tennis bracelets are equally as pretty and sometimes come at a more affordable price. No matter your style, taste, or price range, we're certain we've got something that will steal your heart!
Let's Find Your Perfect Match!
When it comes to finding the
tennis bracelet
of your dreams, your trusted Alabama jewelers are here to help!
Visit us in-store
and let one of our expert jewelry associates help you discover something you'll cherish forever.
Whether that's an emerald tennis bracelet or something like this dazzling
ruby and diamond tennis bracelet
, we won't stop until you find your perfect match!