Let us Help You Write the Next Chapter in Your Love Story With Our Guide to His & Hers Wedding Bands!
You've finally found your perfect partner. Love is in the air, and you've decided to tie the knot. All that's left is picking a pair of rings that's as perfect a match as you and your love. With a wedding on the horizon there's always something to plan. But your ring shopping experience should bring you as much joy as your bride- or groom-to-be.
We know plenty of brides and grooms have dreamed of this day their whole lives. Their rings should be the perfect accent to the ceremony, and need to capture something special about the couple. We have the selection and jewelry experience to make your ring shopping as beautiful as falling in love.
With nearly endless options it can be difficult to know where to start. To help our soon-to-be newlyweds, we've written this helpful guide for couples who are ring shopping. In this article you'll get a breakdown on the hottest trends and styles, the most iconic traditional looks, and walk away with a bit more insight into the world of wedding rings. A wedding ring should perfectly capture your life together, and after reading this guide you'll know just what to look for when it's time to come into the shop.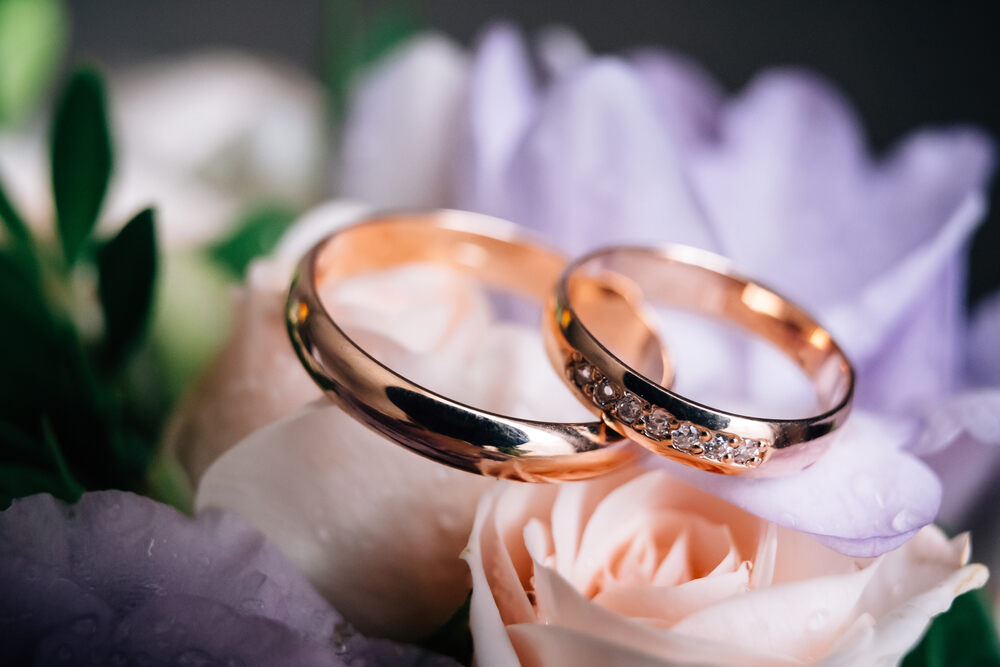 Men's Wedding Band Styles
In general the most popular men's wedding band styles are classic, simple, and timeless. However, there are some increasingly trendy styles that have set themselves apart from the norm.
Men's wedding bands come in various styles, materials, and designs to suit every preference and budget. From classic and timeless to modern and trendy, there is a perfect wedding band style for every groom. Here are some of the most common classic and modern men's wedding band styles:
Classic Men's Wedding Bands
The plain, classic wedding band is the most traditional and timeless style. It is a simple band made of precious metal. Common styles include platinum wedding bands and gold wedding bands, which can come in multiple colors. Grooms can choose rose gold wedding bands, yellow gold wedding bands or white gold wedding bands. It has a smooth, polished finish with no additional design or embellishments. This style is perfect for the groom who prefers a simple, elegant, and timeless look.


Men's Diamond Wedding Bands
A diamond wedding band is a popular option for grooms who want to add some sparkle to their wedding ring. This style features a row of diamonds or other gemstones set into the band. It can be a subtle or bold design, depending on the size and number of stones. It's a great choice for a groom who wants a touch of luxury and elegance, and a fun way to match your partner's love for sparkly stones.
Two Tone Wedding Bands
The two-tone wedding band combines two different metals, such as white gold and yellow gold, into one ring. It creates a unique and distinctive multicolored look that is both modern and classic. For a subtle twist on the classic wedding ring, you can't go wrong with a two-tone ring.
Milgrain Wedding Bands
The milgrain wedding band, meanwhile, is a throwback style–very popular in the earlier 20th century. It features a raised, beaded edge around the band. This adds texture and detail to the ring without being too flashy. The milgrain band offers both classic charm and unique, modern features.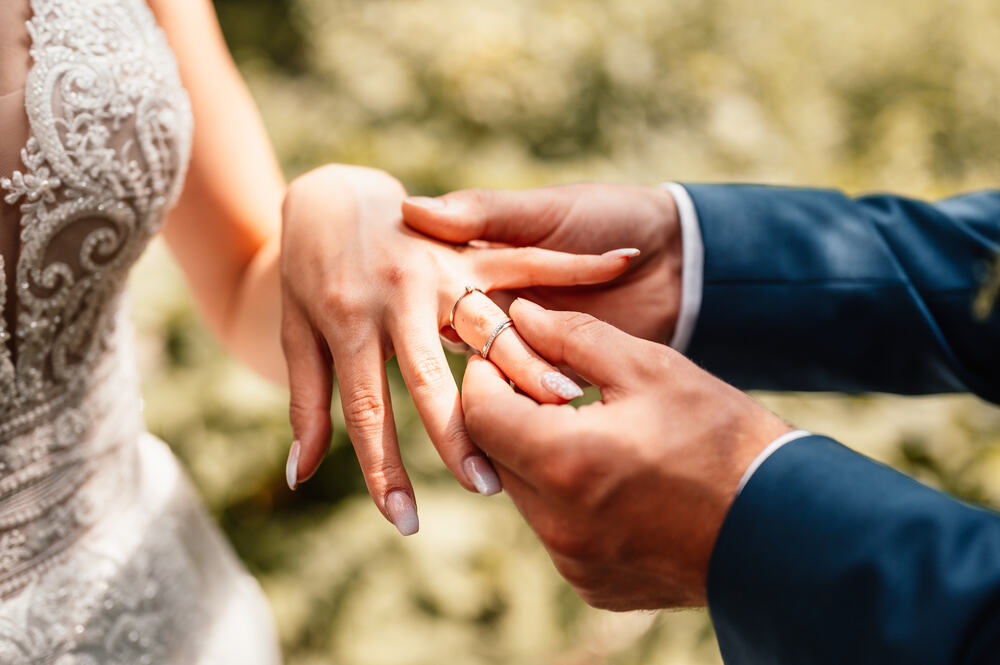 Hammered Wedding Bands and Wood Wedding Bands
A hammered finish can be applied to any metal wedding band, and it adds a unique and rustic aesthetic. It features a textured surface that looks like it has been hammered by hand. One advantage of the small dents in the hammered surface is that it disguises wear and tear on the ring. This style is perfect for the groom who wants a rugged ring, maybe an outdoorsy guy, or a man who works with his hands!
Similarly, the wood wedding band is a unique and rustic style that is perfect for grooms who love the outdoors. It features a band made of wood, either natural or inlaid with other materials, like metal or carbon fiber.
The world of men's wedding bands is just as wide and varied as women's wedding bands, or even engagement rings. It's a fun choice that a groom should relax and enjoy exploring. We can find him the perfect unique wedding ring to suit any taste.


Women's Wedding Band Styles
Diamond Eternity Bands
Women's eternity band wedding rings feature a continuous band of precious metal, usually gold or platinum, encrusted with a row of diamonds or other gemstones that wrap all the way around the band. The unbroken circle represents the unending love between two people, making it a popular choice for wedding rings.
One of the main benefits of an eternity band wedding ring is its versatility. It can be worn on its own as a stunning statement piece, or stacked with other rings for a unique and personalized look. Some women even choose to wear their eternity band as an anniversary ring to commemorate a special milestone in their relationship.
When choosing an eternity band wedding ring, consider the size and quality of the diamonds or gemstones. It's important to choose a ring with stones that are well-matched in terms of color, clarity, and cut, to ensure a cohesive appearance. Stones in an eternity band are often quite prominent, and may catch on things if the wearer isn't careful. If you have a hands-on job, this may not be the best ring for you. Finally, it's important to choose a ring that is comfortable to wear. Eternity bands can be wider or narrower, depending on your preference, and should fit snugly without feeling too tight or uncomfortable.
Overall, an eternity band wedding ring is a timeless and beautiful choice for any bride-to-be. With its versatile style and meaningful symbolism, it's a ring that can be treasured for a lifetime.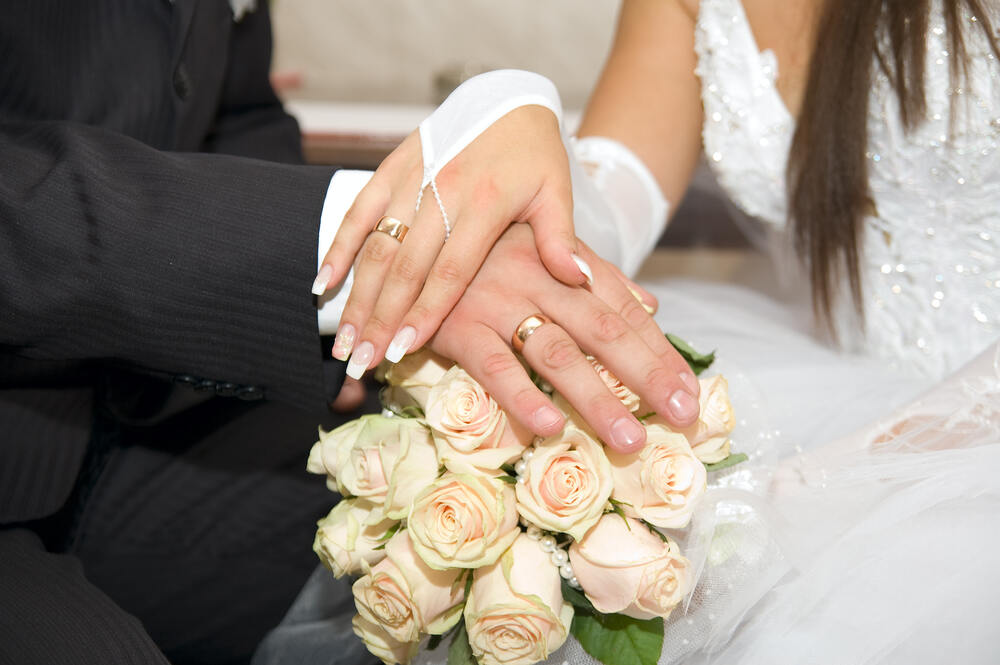 Diamond Pave Wedding Bands
Women's pavé wedding bands are a popular choice among brides-to-be, and for good reason. These bands are characterized by small diamonds or other gemstones that are set closely together, covering the entire band. This creates a sparkling and luxurious effect that many women find irresistible. Pavé wedding bands come in a variety of styles and designs, making it easy for women to find a band that suits their personal taste and style.
Another benefit of pavé wedding bands is their durability. The small diamonds or gemstones are set securely in place, reducing the likelihood of them falling out. This means that women can wear their pavé wedding bands daily without worrying about damaging or losing them.
Contour Wedding Bands
Women's contour wedding bands are designed to fit perfectly around the engagement ring, creating a seamless and beautiful pairing. The contour of the band is created through careful crafting and shaping of the metal, so that it curves around the diamond or gemstone of the engagement ring. Contour wedding bands add a little wave to the wedding band itself, signifying the twists and turns you and your partner will walk together.
One of the biggest advantages of a women's contour wedding band is that it helps to protect the engagement ring from damage. By fitting snugly around the diamond, the band reduces the risk of the stone becoming loose or dislodged. Additionally, the two rings together create a stunning visual effect, making the engagement ring even more eye-catching and dazzling.
Chevron Wedding Bands
Women's chevron wedding bands are a popular choice for those seeking a unique and stylish twist on a classic wedding band. The chevron design features a V-shape that creates a stunning visual effect when paired with an engagement ring. These bands can also be studded with diamonds or other precious stones. The peak in the chevron ring has come to symbolize the beginning of your new life together as a married couple.
Chevron wedding bands are a great choice for those looking to add a modern touch to their bridal jewelry. They're versatile enough to be worn alone or stacked with other rings, and their distinctive design makes them a perfect choice for those who want their wedding band to stand out. Whether you prefer a simple or ornate design, a chevron wedding band is sure to be a stunning addition to your jewelry collection.
His and Hers Wedding Bands
Your relationship is a match made in heaven, so shouldn't your wedding bands be, too? Many couples and jewelry experts agree that matching wedding bands are the way to go. They give a great sense of visual coherency between you and your partner, and who doesn't love matching with their special someone. On that magical wedding day, a matching set of wedding rings will announce proudly, and visually, your union.
By deciding to get matching wedding rings you make your life a little easier. Select a band style you like and a metal that suits you and your partner and you're good to go. Of course, you do not have to commit to completely identical styles. Maybe your man wants a simple rose gold band, but you'd like some sparkle on your band–just go with a diamond-studded rose gold look!
With matching wedding bands, you can always look at your ring and remember the connection you have with your partner. Each day will feel a little brighter as you're reminded your partner carries the same commitment on their hand.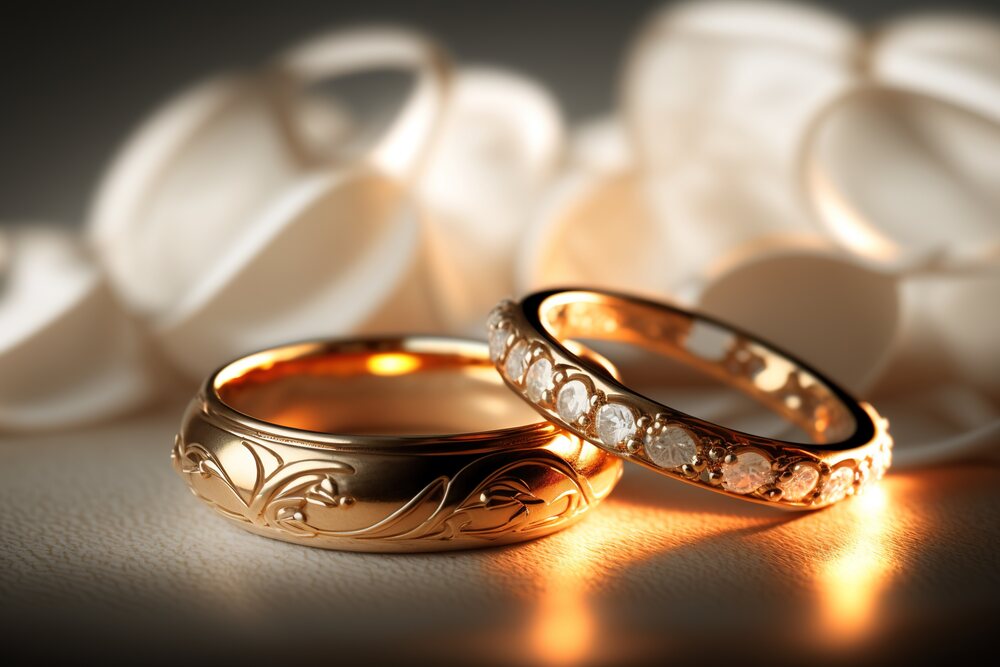 Ware Jewelers: Where Alabama Falls in Love
Buying your wedding bands is a big decision. After all, you will be wearing them for the rest of your lives. Though it's an important moment, the wedding band shopping experience should still be fun! We hope this guide has given you a good idea of which styles are out there, and that you've gotten excited to start shopping for your own.
No matter what style you're most interested in, at Ware Jewelers we can help you find the perfect wedding band. We have a team of expert jewelers dedicated to matching you with the ring of your dreams. Come visit any of our Alabama locations today and find out what makes our jewelry shopping experience so special!