One of the biggest holidays of the year is coming up and if you can't guess it then, your mom may be very disappointed! It's Mother's Day! A day to serve as a reminder that your mom deserves more than just one day of "Thanks". Moms are there to make sure you have your lunch packed, to ask how your day is going, and to show up at your door whenever you need her.

Ware Jewelers is here to make sure you show your appreciation and thank your mom with a special gift. Enjoy these moments with a smile on her face, because although mothers are there for every day of the year, this Mother's Day is extra special.
Pearls are known to symbolize wisdom acquired through experience and there is a reason that you always go to mom for advice. With the wisdom that only a mom can give you, she is always there to lend an ear. Why not adorn those always listening ears with beautiful Akoya Saltwater Pearl Studs?
Snag something blue to remind her of clear skies. She always seems to make the dark clouds disappear for you; so, give her something to symbolize that. Our 2-row freshwater pearl bracelet is beautifully designed with aqua beads and pearls on sterling silver rows. Give her a gift that shows off the same generosity that she gives to everyone around her with this delicate and beautiful gift.
Mothers are someone we all inspire to be. They are always there to have your back and give you hope when you need it most. It takes a lot of strength to be a mom; to be able to be there in the good times and in the bad. With our Lau 14KY Gold Cross, she shares her inspiration with all those around her.
Roberto Coin Medium Round Hoop Earrings
Everyone needs a little something to give you that extra boost. Nothing makes a fashion statement quite like hoop earrings. For the head fashionista in your family, give her these polished gold hoops. Whether it's for date night or the need to show off that confidence in the office, hoop earrings are there to help!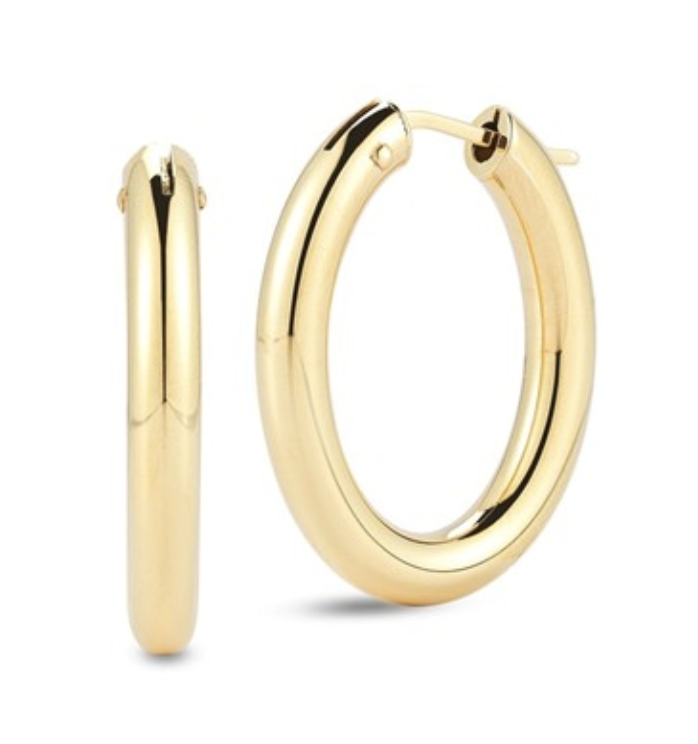 Home is where your family is, and at the heart of every home is mom. She is the one who brings everyone together for dinner or holidays. The biggest message that she sends to everyone is that being a part of a family means being together forever. Ware Jewelers brings you this incredible Interlocking Rings Necklace, complete with interlocking rings that symbolize unity. With a beautiful gold finish, this necklace makes this Mother's Day shine a bit more than the rest.
Mothers are there every day let's make Mother's Day a little extra special this year. With Ware Jewelers, you can give your mom something that makes her smile and something with meaning that she will understand. Help make Mother's Day memorable, especially this year. With everything that is going on around us, it's important to take care of mom, so do so with Ware Jewelers!
Our store is open again! Come visit us 10am-4pm Monday-Saturday to find the perfect pieces for mom. We are going the extra measures to protect your health and safety while also welcoming you to shop from home. Explore our Mother's Day selection online now and enjoy free gift wrapping, curbside pickup, and free shipping. Call, message, or text us for further assistance. We look forward to helping you!