From Gold Necklaces to Diamond Stud Earrings and Beyond, Ware Jewelers Has Your Valentine's Day Jewelry Gift Covered!
At Ware we believe in celebrating those who mean the most to you with the gift of fine jewelry. And we are also firm believers that there's no better excuse to splurge for your special someone than Valentine's Day.
Valentine's Day is an international day of romance. Where lovers can express their affection freely. When romance flows effortlessly, if you do a little bit of planning. Ware wants this Valentine's Day to be your best yet, so we've prepared a holiday gift guide to get you going.
What's So Special About Valentine's Day?
For nearly 600 years Valentine's Day has been celebrated as a day of romance. There is some debate as to why we celebrate it in February. Some scholars trace this practice back to the Romans with their yearly celebration of Lupercalia, where single young men and women were paired up in a draw.
Others point to the early Medieval belief that birds paired up and built their nests in the season. Whatever the reason for celebrating, it's now a day that screams romance, and it's the best chance to show your love what they mean to you.
A heartfelt gift says more than words ever could. To borrow a common expression, giving someone something meaningful 'puts your heart on your sleeve'. It's a romantic gesture that sends a clear message: 'I care!'
Take your time and select something that's going to really impress them. We recommend making a grand gesture this year with a gift of fine jewelry from our incredible selection.
Ware Jewelers is here to help you make this Valentine's Day one to remember with unforgettable jewelry. No matter who you're trying to treat, we've got the recipe for a happy Valentine's Day.
To make this Valentine's day the best it can be, we've selected some of our favorite thematic pieces from the Ware Jeweler's collection. We invite you to check out the selection, we know you'll find something that will make this Valentine's Day the best ever.
Show Them Your Love with Jewelry!
Love is like a diamond. Your love is brilliant, beautiful, and everlasting. Relationships are like gold: pure, and something to be treasured. Jewelry, in many ways, is the perfect metaphor for the lifetime commitment that is a long-term romantic relationship.
Both jewelry and relationships take a great deal of care and attention to create something of enduring quality. They both need a little maintenance and repair every so often. And, if you take your time picking the right one, you'll end up with something to treasure for a lifetime.
Heart Necklaces To Warm Her Heart!
A true classic, the heart is an enduring symbol for romantic love. It expresses the same love that has motivated countless generations of Valentine's Day gifts before. Yet the heart remains fresh and modern in its own way. It's a symbol almost as transcendent as being in love. Our collection features a number of designs that evoke the classic heart shape.
Looking for a necklace? We've got a range of options for any budget. This
classic gold heart pendant necklace
, featuring a simple miniature heart in 14k yellow gold, is sure to impress and express your love. Sleek and simple, this solid gold necklace is as enduringly beautiful as she is.
This gold necklace is the perfect way to give her a little piece of your heart, and she'll keep it close to her own heart every time she wears this precious piece.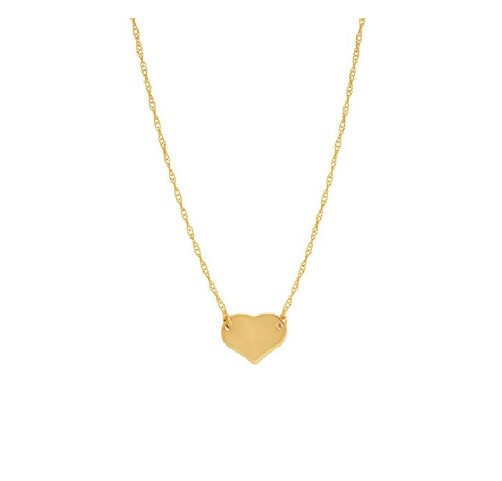 Or, if silver is better suited to her taste, this beautiful
sterling silver necklace pendant
is elegant, understated, and a great choice for those on a budget. You don't have to break the bank on a gift to show her how much you care.
This quality pendant will be a lasting symbol of your love. Its clean look means it'll be a piece she can pair with any outfit for many years to come. Pair it with a chain of your choice for a gift you'll be proud to present on the big day.
Last but not least is this stunning white opal necklace, set in sturdy white gold prongs. This necklace also features the subtle heart design, but that stone is so stunning it takes a moment to notice. Opal is famous for refracting all the colors of the rainbow, and no two opals are alike.
Show her she's gorgeous and unique with one of nature's most beautiful gemstones. Plus, if she was born in October, opal is her birthstone, so this gift will be extra meaningful. This showstopper is guaranteed to take her breath away.
Lock in Your Love with Locket Necklaces!
Though a
locket necklace
is less literal than a heart-shaped pendant, it's an equally meaningful expression of your love. Locket necklaces may sound old-fashioned, but they're staging a major comeback! After all, what's more thoughtful than a gift that honors a shared memory? It's more than just a necklace with a picture inside, it's a token of true affection that she can carry forever.
You can choose any picture you'd like to include in your gold locket, and even include text on the other side of the locket if you'd like. Maybe you have a goofy selfie from a trip you took together, or a shot of the restaurant where you had your first date. No matter what you choose, she'll be stunned by all the care you put into it.
Leave Her Speechless with Elegant Earrings
Jackie Kennedy famously said "Pearls are always appropriate," and we couldn't agree more. They're certainly a fantastic choice for Valentine's Day. Perhaps the ultimate symbol of classic elegance, these high-society gemstones are available for affordable prices.
Another piece that will never fall out of fashion, pearl drop earrings will make her feel like a princess. The hammered silver disks will sit against her lobe and add a modern twist, while gorgeous freshwater cultured pearls hang below. Let her unwrap these
pearl earrings
a little early and wear them to your Valentine's dinner--it'll be the best date night of the year.
Speaking of staple jewelry pieces, these
rose gold hoop earrings
are another guaranteed hit. At 70mm in diameter, these are just the ticket for a girl who likes to make bold fashion statements. Plus, if she has long hair, this pair of earrings will be easy to see through her locks.
These are the perfect pair of earrings to wear with her new Valentine's Day date night dress. Don't worry, though--if she's the subtler type, we have plenty of hoop earrings and huggie earrings in smaller sizes! Gold earrings are a gift she can treasure every day for the rest of her life, just like you treasure her.
Our next pair of exquisite
earrings features braids of 10k yellow gold and 10k white gold intertwined in a two-tone 'love knot' style
. These sweet and simple stud earrings are easy and comfortable to wear; not to mention the romantic symbolism of the design. Show her that your feelings for her are eternal with a pair of earrings that represent an inextricable connection.
Bring Out Her Radiance With Beautiful Bracelets!
The garnet may be best known as January's birthstone; however, it's also been historically associated with love and passion. Its deep red color evokes the heart. It has also been called the 'commitment stone' and utilized as a symbol of undying loyalty and dedication.
Give her this
garnet bracelet
to let her know you're serious about her. The symbolism is the real treasure here, and the beauty of the garnet is just an added bonus. Crafted by true jewelry artisans, the sterling silver chain won't tarnish, and the garnets will glimmer for years to come.
If you're going all out for Valentine's Day this year, you can't go wrong with a
diamond tennis bracelet
. Luckily for you, we have a number of sizes and metals in stock, so you can select different diamond sizes, as well as white gold or yellow gold chains, according to your love's preferences.
Diamond station bracelets are the epitome of delicate beauty. Easy to pair with any outfit, this jewelry box staple can class up an everyday look or add a final, polished touch to her dressiest ensemble. For the girl who is graceful and gorgeous, a diamond bracelet such as this one makes the ultimate gift.
Ware Jewelers: Where the Best Valentine's Day Surprises Begin
Here at Ware Jewelers, we love love, and we think Valentine's Day is the greatest day to celebrate all things love. We believe there's no better way to mark the occasion and share your undying love for your partner than with a gift of fine jewelry. This year, show them how much they mean to you by getting them the perfect romantic piece, whether it's a heart shaped pendant or a pair of gold earrings.
When it's time to give your Valentine your heart, we guarantee they're going to love it if it comes from Ware Jewelers. No matter what you choose to give them, if you put in the thought, you'll reap the reward. If your partner has been dropping hints lately about what would be a lovely gift to get, be sure to take note. If you're in the dark about the perfect gift, stop by the store and let our experts give you some suggestions!
There's no better way to say
I love you
than a thoughtfully selected piece of jewelry. Make this Valentine's Day one to remember with a token of your affection that perfectly expresses your love. Don't wait till it's too late. Tell them how you really feel.