Choosing a jewelry box for your bedroom or as a gift can be quite tricky if looks are all you're looking for in it.
Wood or metal
Wood that has been well-treated provides insulation and inhibits the buildup of dirt and moisture. Unlike metal, wood is not susceptible to rusting or high rate of wear-and-tear.  While each variety of wood offers a rich, natural finish, walnut and mahogany are in a class of their own. Walnut wood and mahogany jewelry boxes are easily some of the most popular ones – offering insulation, protection, durability and rich aesthetics.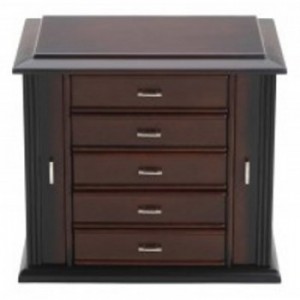 Metal on the other hand looks much less elegant and is prone to functional wear-and-tear. Although much more durable than glass caskets, metal boxes have a tendency to stick out. You want your jewelry box to blend in with the décor of your bedroom, so the better option will always be wood in all its different designs. There's hardly a place where would doesn't feel at home.
Your jewelry
If all you want to store are rings, a jewelry box with multiple slots should do fine. However, if you are looking to store bracelets, you need a lot of drawer space, and it's time to start looking into jewelry chests. Jewelry chests usually come with vertically-aligned drawers or side doors to hold necklaces. So if you have a lot of necklaces, look for something similar.
Lining
The interior of a jewelry box is usually lined with soft, protective fabric like velvet. The interior should be lint-free and smooth. A rough lining could surreptitiously keep damaging your jewelry and make it look old too early.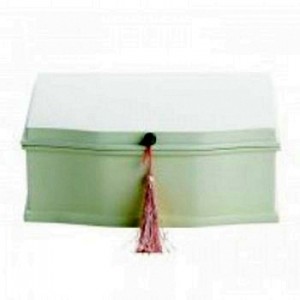 Depending on the décor, you may want to choose a traditional Victorian-style jewelry box or opt for a more modern, simple design.
Visit ware Jewelers for more options.